LillyBlanc
Bloomies Bottle™
🌼🍋 Bloomies Bottle 
23.7oz | 700ml
🍋 Eco-friendly
🍓 Reusable
🍊 Stay Hydrated 
🫐 MANY Health Benefits
🥝 Reusable Straw - more water intake with a straw
🍉 Slim Design, Easy to carry, and Convenient
🍎 Tastes Better infused
We absolutely love our Bloomies Bottle! It will keep you refreshed and hydrated! Our Bloomies Bottle is aesthetically pleasing, easy to use, and solves your daily water intake. The slim design is made for you to easily take it anywhere such as your work, gym, pool, car, and in your own home. It's endless.
Drinking infused water has many health benefits, and many people are not drinking enough water. We found the solution for you! 
This bottle is not just a regular water bottle. 
What makes our bottle special? 
You'll be surprised how much you'll start drinking water with the Bloomies Bottle. The water is going to taste better with any type of fruits you desire. Most importantly, the straw. The straw makes you drink more with out even realizing it! This may sound funny, but we know many people that will only drink out of a straw 😁
There are many benefits from drinking infused water
Depending on which fruits or teas you infuse:
Aids in proper digestion
Weight management
Helps to keep us from overheating
Maintains healthy skin
Restores fluid lost through metabolism, breathing, sweating, and removal of waste
Appetite control
Hydration
Immune defense
And more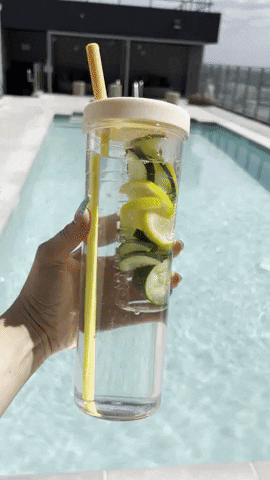 Our customers bought more than one bottle to have different infused waters made such as cucumber lemon, strawberry + kiwi + lime, watermelon + basil, and other flavors depending on their vibe, mood, or day.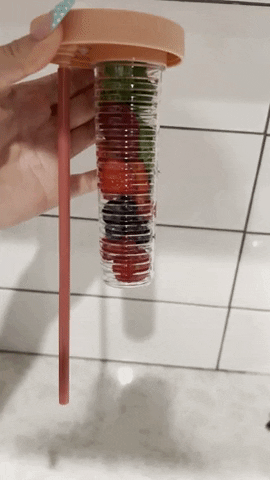 The Bloomies Bottle won't spill. Just make sure to put the straw down on the top.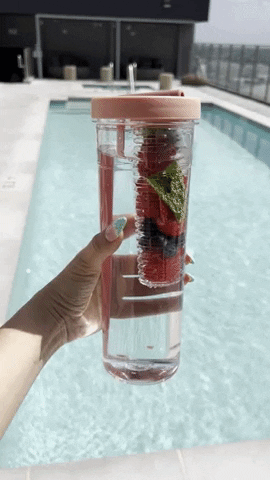 You can infuse teas with our Bloomies Bottle
Made high quality and plastic.
Made of food grade material. 
Size: 9.25 x 3.35 x 2.8in
23.5 x 8.5 x 7cm 
Color may vary depending on the lighting
To keep it cool: Refrigerate it and/or add ice.